Successful advertising has long been called "salesmanship in print" by those who know it best. Now this classic book shows you step-by-step how to use this powerful selling force to maximize your real estate sales effectiveness. In 11 fast, easy-to-read chapters, Real Estate Advertising That Works! teaches you how to . . .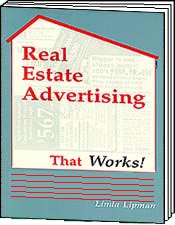 Paperback - 298 pages. Only $19.95
When to use display ads instead of classifieds
How to write eye-stopping ads for your listings!
How to outshine your competition with dramatic display advertising
How to maximize your advertising with simple brochures and flyers
When to use public relations to get free advertising
How to develop and get the most from your advertising budget
Learn what buyers really want -- valuable results from a national buyer/seller survey (New York Times)

Real Estate Advertising That Works! also gives you complete glossaries of both real estate adjectives and advertising, printing and newspaper terms that you can use in your own advertising. Plus it's loaded with hundreds of examples and idea-starters for headlines, body copy and powerful closing phrases.